Quin Baber
---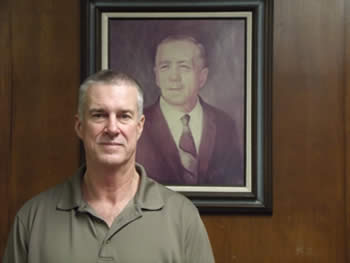 Department Manager of Environmental Services
Terracon Consultants, Inc.
Benton, AR
(501) 847 - 9292
Education
B.S., Geology, Arkansas Tech University (Russellville), 1981
Continued Education
40 hr. Hazardous Materials and Site Investigation - OSHA 29 CFR, Certified Level B CPR and ECC, EPA Course on NAPL and DNAPL site characterization and remediation technologies, USGS school on Operation and Maintenance of Geophysical logging equipment, 49 CFR 172, Subpart H – Safe Transportation of Haz Mat.
Professional Registration
Registered Professional Geologist, Arkansas (#144)
Registered Professional Geologist, Louisiana (#70)
Professional Experience
1994 - Present, Department Manager Environmental Services, Genesis Environmental Consulting, Inc. / Terracon, Inc., Little Rock, Arkansas. Responsible for management and technical supervision of a wide range of environmental services. Mr. Baber has extensive experience in extent of contamination studies, remediation of contaminated sites, site assessments, underground storage tank studies, geologic and hydrogeologic studies and regulatory compliance and permitting.
1991 - 1994, Project Director, B & F Engineering, Hot Springs, Arkansas
1981 - 1991, Geologist, Arkansas Geology Commission, Little Rock, Arkansas
Appointments
Served on the Governor's Water Quality Standard Committee and the Water Well construction sub-committee to develop regulations and guidelines for the installation of production and monitoring wells in the State of Arkansas.
Re-Appointed to the Arkansas Geological Commission by Governor Asa Hutchinson in 2016.
Appointed as Board Member on the Arkansas Board of Registration for Professional Geologists.
---