Nepheline Syenite
---
Nepheline syenite is a medium to coarse-grained, light- to medium-gray, igneous rock that is composed predominantly of a silicate mineral called orthoclase (KAlSi3O8) and has a granite-like appearance. It may be distinguished from granite by little or no quartz content (free SiO2). In Arkansas, nepheline syenite has been intruded into the sequence of Paleozoic sedimentary rocks. Locally, quarrymen recognize "blue granite" and "gray granite" varieties.
---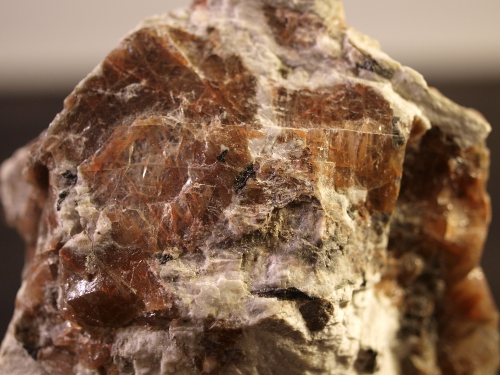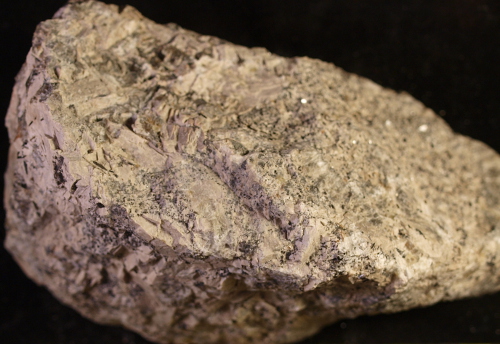 Much of Arkansas' nepheline syenites have high strength and weather-resistant properties and are crushed for use as roofing granules, road materials, riprap, and asphalt and concrete aggregate. Fines are used as a colorizing and fluxing agent in the manufacture of brick and as compaction fill. Historically, this rock has been used as a building, monument, and paving stone and for railroad culvert and bed construction. Syenite was also used extensively as riprap for the protection of river banks and road embankments. Arkansas's syenite deposits have been studied as a potential source of the mineral nepheline, which is used in the manufacture and fabrication of glass. However, the inclusion of various fine-grained iron-bearing minerals in this mineral results in too high of an iron value to manufacture low-iron glass. The development of new separation technology may allow the use of Arkansas nepheline concentrates for specialty markets. Several syenite deposits have been examined for potential use as low free-silica (minimal quartz) sand-blast abrasive.
Nepheline syenite and its associated igneous rocks are exposed in 4 areas of the state: south-central Pulaski County between Little Rock and Sweet Home, Saline County in the vicinity of Bauxite, Garland County at Potash Sulphur Springs, and Hot Spring County at Magnet Cove. The total surface exposure of syenite in Arkansas is about 13 square miles.
Nepheline syenite is quarried at Granite Mountain in Pulaski County by several companies. It is crushed and sized for several aggregate uses. Crushed, sized roofing granules, colorized to builder's specifications, are produced at a plant east of Little Rock, using syenite from a nearby quarry. Nepheline syenite has also been quarried near Bauxite in Saline County and at the Diamond Jo quarry in Magnet Cove, Hot Spring County. Presently, one quarry is actively producing nepheline syenite near Bryant in Saline County. Mining of nepheline syenite exceeds 5 million short tons annually.
---
References
Gordon, Mackenzie, Jr., Tracey, J. I., and Ellis, M. W., 1958, Geology of the Arkansas bauxite region: U. S. Geological Survey Professional Paper 299, 268 p.
Morris, E. M., 1987, The Cretaceous Arkansas alkalic province; A summary of petrology and geochemistry, in Morris, E. M. and Pasteris, J. D., eds., Mantle metasomatism and alkaline magmatism: Geological Society of America Special Paper 215, p. 217-233.
Smothers, W. J., Williams, N. F., and Reynolds, H. J., 1952, Ceramic evaluation of Arkansas nepheline syenite: Arkansas Resources and Development Commission, Division of Geology Information Circular 16, 21 p.
Williams, J. F., 1891, The igneous rocks of Arkansas: Arkansas Geological Survey Annual Report for 1890, v. II, 457 p.
---