Surface Water
---
Major rivers, larger publicly-owned lakes and major drainage basins in Arkansas
Surface water is present as rivers, streams, swamps, wetlands, and natural and made-made lakes and impoundments. These sources are so important to the State of Arkansas that billions of dollars have been spent and millions are spent every year to maintain our lakes and rivers for our use (see Use).There are five major drainage basins within the State. They are the Mississippi-St. Francis, the Arkansas, the White-Cache, the Ouachita, and the Red. These rivers are important sources of water and in places with major dams they form the state's largest lakes.1
The Mississippi, Arkansas and parts of the White and Ouachita rivers are important channels of barge commerce (see picture on the right).
---
Streams & Rivers
There are about 87,617 miles of streams and rivers in and around the State of Arkansas. The combine flow of the streams within the state averages about 40 billion gallons a day with an additional 30 billion gallons a day brought in to the state from surrounding states in the Arkansas, White, Red and ST. Francis rivers this compares to the daily average of 210 billion gallons a day that flows in the Mississippi River past Memphis. The quality of surface water varies across the state that is mainly due to the fact that eastern and southern Arkansas has what is called "soft" rock exposed at the surface that easily erodes causing the water to be cloudy or turbid when compared to streams in western and northern parts of the state that are underlain by "hard" or consolidated rock.1
White River at Penters Bluff, Izard County, looking east (see picture on the left).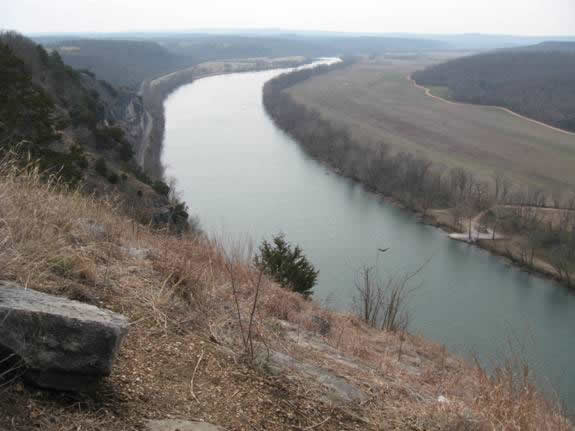 ---
Lakes
Arkansas has over 356,000 acres of publicly-owned lakes and reservoirs with a total of over 514,000 acres for all lakes in the state. Nearly all the lakes in Arkansas have been created by man to serve a variety of needs for the people of Arkansas. The largest of the state's major lakes are used for flood control, electrical power generation, drinking water supply and recreation. Also some lakes depending on their size are used as part of river navigation systems, wildlife habitat and for irrigation.2
Sunset on Lake Maumelle, the largest source of drinking water for the city of Little Rock (see picture on the right).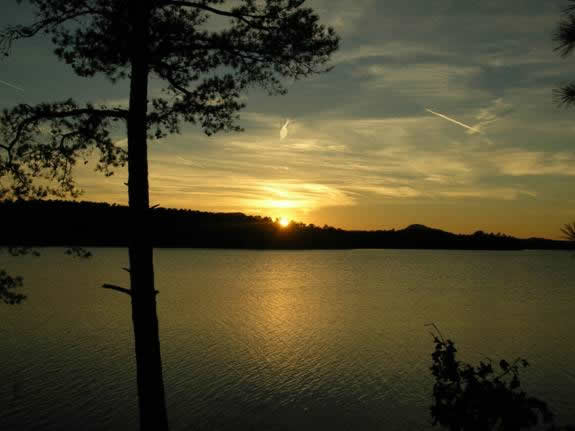 ---
Use
Surface water sources such as rivers and lakes currently supply 34 percent for the state's water needs. Public supply systems provide drinking water to 93 percent of the people of Arkansas and 66 percent of this water comes from surface sources. The state as a whole uses over 3.9 billion gallons per day of surface water. As the population of the state continues to increase the most likely source for more water will be the lakes and rivers of the state. The greatest single use of water in Arkansas but that does not consume it is for hydroelectric power generation at dams. Some 62 billion gallons a day produce this power and then return the water back into the rivers.1, 3
White River at Penters Bluff, Izard County, looking east (see picture on the left).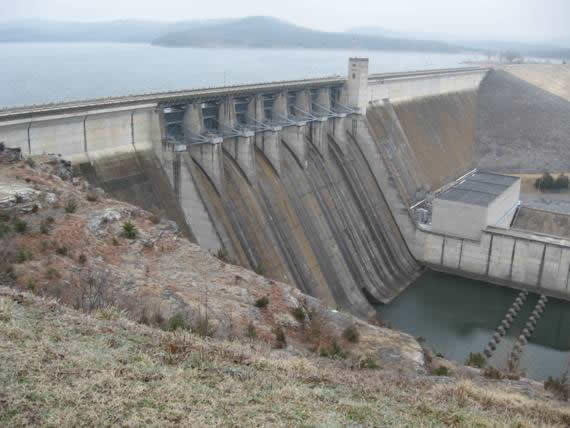 ---
References
Howard, J.M., Colton, G.W., and Prior, W.L., eds., 1997, Mineral, fossil-fuel, and water resources of Arkansas: Arkansas Geological Commission Bulletin 24
Arkansas Department of Pollution Control and Ecology: Arkansas Water Quality Inventory Report, 1996: Open File Report
Holland, T.W., 2007, Water use in Arkansas, 2005: U.S. Geological Survey Scientific InvestigationsReport 2007-5241
---