Arkansas's Geological Mapping Program
The Arkansas Geological Survey (AGS) has been conducting geologic mapping since the late 1800's. The first Geologic Map of Arkansas was produced by H.D. Miser and published by the U.S. Geological Survey in 1929. In the 1960's, the agency was involved with statewide field mapping, resulting in publication of the 1976 Geologic Map of Arkansas (revised 1993). The AGS continues to coordinate with other agencies for supplemental funds for mapping. Starting in the early 1990's the AGS, then named Commission, began conducting geologic mapping at a 1:24,000 scale in cooperation with the STATEMAP Program under the U. S. Geological Survey's National Cooperative Geologic Mapping Program. The STATEMAP Program provides matching funds for completion of maps in various parts of the state (see figure below). Click here for other quadrangles mapped in north-central Arkansas.
Digital compilations at the 1:100,000 scale were produced in the Cretaceous area of Arkansas where previous mapping for STATEMAP produced digital maps at a 1:24,000 scale. Click here for quadrangles mapped in the Cretaceous part of the state.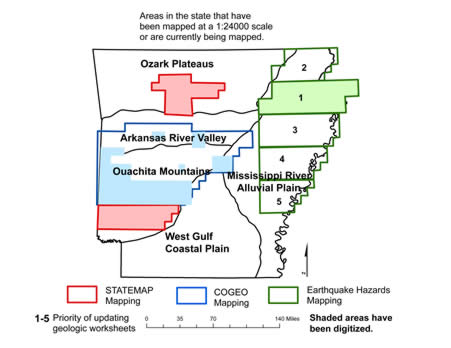 In the early 1990's, the Survey finished 1:24,000 scale mapping under the COGEO Mapping Program. Approximately 178 quadrangles were mapped in the Ouachita Mountains and Arkansas River Valley Regions. These quadrangles were hand drawn on topographic base maps and only a portion (63 quads) have been produced as geologic maps. Most of the quadrangles are available only as reconnaissance geologic maps, because they have never been digitized with full layout including descriptions.
---
An interactive web map featuring Ouachita and Arkansas River Valley geology mapped under the COGEO Mapping Program and Cretaceous geology in the West Gulf Coastal Plain mapped under the STATEMAP program is available here.
---
At this time the AGS is developing a Strategic Earthquake Research and Outreach Plan for Arkansas. One important aspect of this plan is to conduct surficial geologic and subsequent hazard mapping for eastern Arkansas. In place is a five year plan to update the 1:24,000 scale geologic worksheets in the Mississippi River Alluvial Plain. This year one portion has been digitized and is available. Over the next four years a large portion of eastern Arkansas will be updated by reconnaissance mapping. It is our plan that this reconnaissance mapping will aid in acquiring earthquake research grants to produce seismic hazards maps to ascertain liquefaction susceptibility.
The AGS works with National Park Servise and Arkansas State Parks to produce geologic maps. We have updated the geologic maps for each of the national park properties in Arkansas: Arkansas Post National Memorial, Buffalo National River, Hot Springs National Park, Pea Ridge National Military Park. The AGS has a publication series – State Park Series. The geology of some of the state parks began in 2006 with The Geological Story of Petit Jean State Park (publication; map) and 2008 with the Geology of the Crater of Diamonds State Park and Vicinity (publication; map).
---