Land subsidence
Land subsidence is defined as the lowering of the land surface. Many different factors can cause the land surface to subside. Subsidence can occur rapidly due to a sinkhole or under ground mine collapse, or during a major earthquake. Subsidence can also take place slowly, becoming evident over a time span of many years. In either situation, subsidence can result in millions of dollars of damage. Find out more about causes of land subsidence by clicking on the links below.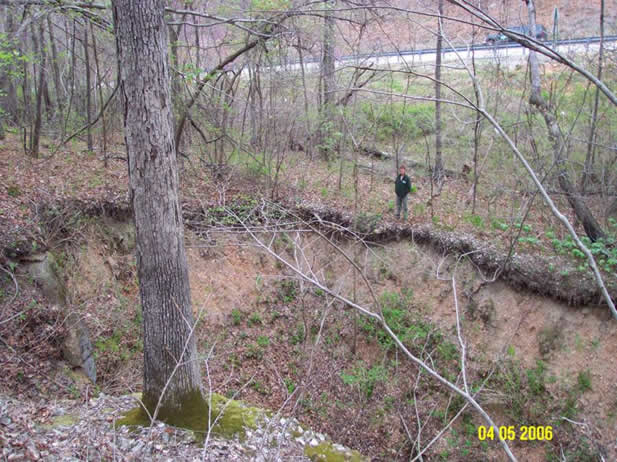 Sinkholes are a naturally occurring, roughly circular depression in the land surface, formed most commonly in areas of carbonate bedrock. Carbonate rocks include limestone and dolostone which cover a large portion of north Arkansas. Both limestone and dolostone are composed of the highly reactive mineral calcite (CaCO3), which readily dissolves in the presence of slightly acidic ground water. In areas of humid climate, rain water percolates downward through the soil cover into openings in the limestone and dolostone bedrock, gradually dissolving the rock matrix. Void spaces in the subsurface will eventually form, and over time may develop into a surface depression called a sinkhole.
A sinkhole develops from dissolution and collapse of the underlying carbonate bedrock and overlying weathered material or regolith. Sinkhole development typically occurs over an extended period of time, but sudden and catastrophic failures have occurred, especially during extreme fluctuations of groundwater levels from prolonged wet and dry periods. Sinkholes vary from small cylindrical openings to large conical or parabolic basins which collect and funnel runoff into underlying aquifer.
The two most common types of sinkholes are cover-subsidence and cover-collapse. A cover-subsidence sinkhole is formed where overburden is relatively thin (a few feet to tens of feet), more permeable, and composed of a greater percentage of silt and sand, thus it lacks the cohesiveness to form a significant "bridge" across the void. So as subsurface solution occurs, the land surface gradually subsides into the void space below typically forming a shallow parabolic basin. Cover-subsidence sinkholes typically develop more gradually than cover-collapse sinkholes.
In most areas of north Arkansas, the carbonate bedrock is not directly exposed at the surface, but is covered by a variable thickness of clay, silt and sand. A thicker clay-rich overburden may bridge subsurface cavities for long periods of time. Eventually a catastrophic collapse of the overburden into the subsurface cavity may occur, forming a cover-collapse sinkhole. Typically, cover-collapse sinkholes form steep sided cylindrical openings. A cover-collapse sinkhole usually develops in a short period of time with no prior indication of its pending existence, thus having the potential to cause damage to property and structures.
---
References
In 1811 and 1812, a series of strong earthquakes rattled northeastern Arkansas. These earthquakes initiated significant liquefaction that drastically changed the ground surface. Land subsidence was one of the major effects of these earthquakes. Large tracts of land subsided during the earthquakes and were flooded with water. Lakes such as Big Lake and St. Francis Lake formed in areas where the land surface has significantly subsided.
Land subsidence can occur in various ways during an earthquake. Movement that occurs along faults can be horizontal or vertical or have a component of both. As a result, a large area of land can subside drastically during an earthquake. Land subsidence can also be caused during liquefaction. Liquefaction can result in the settling and compacting of unconsolidated sediment in an event of a major earthquake. This can result in the lowering of the land surface.
---