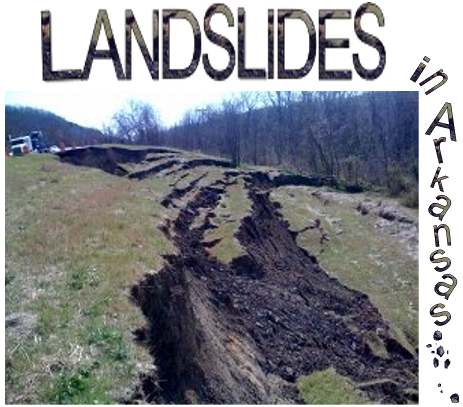 Landslides cost billions of dollars worth in damage every year in the United States. Here in Arkansas, landslides often occur in association with road building, where excavations into the hillsides have over-steepened and reduced natural slope stability. Over-steepening of slope and removal of vegetation combined with large amounts of rainfall contribute to landslide development. A great deal of time and money is invested to repair damage to roadways and property every year in Arkansas. Click on General Information to learn more about the causes of landslides in Arkansas.
The picture on the left is the picture of a landslide that occurred on Highway 65, south of Marshall, Arkansas, was taken in 2008 by Erin Smart of AGS.
Mass wasting is the downslope movement of rock and soils under the affect of gravity. Mass wasting can occur very slowly or very suddenly in a matter of seconds. A landslide is a general term that geologists use to describe this downslope movement.
What Triggers A Landslide?
Landslides are the result of several interrelated factors. Degree of slope, nature of the soils/rock, vegetation cover, but most especially excessive water play a role in their development. Water acts as the lubricant in the landslide equation as well as adding additional weight to the scene. A number of somewhat outside factors can trigger landslides. Earthquakes, heavy rains, mining or construction activities are all major agents that trigger landslides.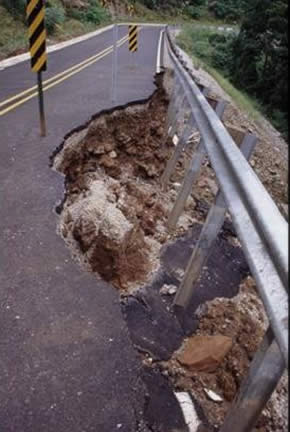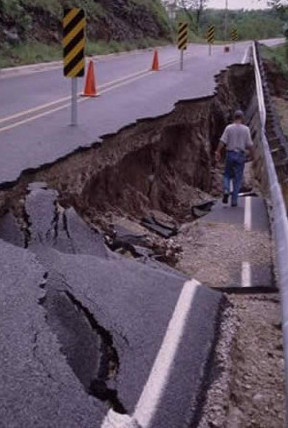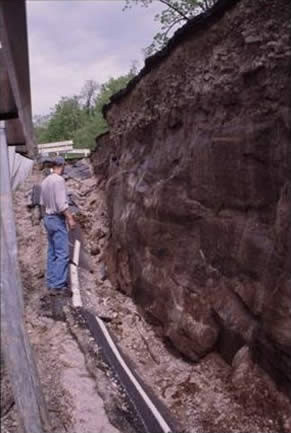 ---
Types Of Landslides
Landslides are classified based mostly on their character of movement and degree of internal disruption. These landslide classes are rockfall, flow, slide, and creep. Although these are clear divisions, in the real world a landslide may have components of more than one type.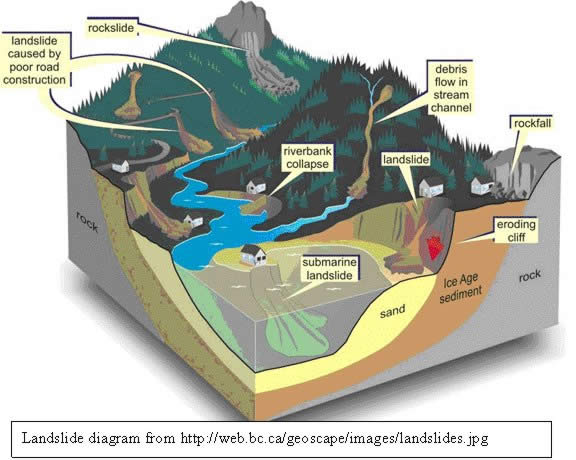 ---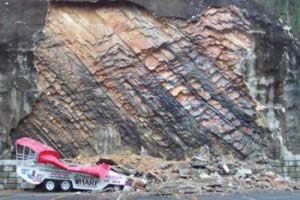 Rockfall
Occurs when a block of coherent material (sediment, soil, rock) falls freely from a steep or undercut bank. This type of landslides is most commonly seen in quarry highwalls, vertical roadcuts, bluffs, and stream cut banks.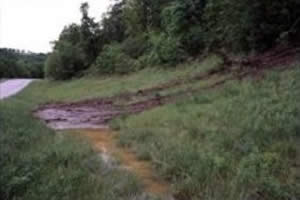 Flows
The downslope displacement of incoherent soils or regolith in the manner of a viscous fluid. Flows are a common minor component of slides and falls but in a few cases dominate the mass wasting process. Flows tend to extend well beyond the boundaries of the site of failure.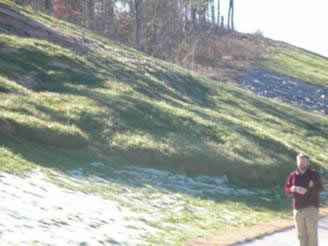 Rockslides
The downslope displacement of coherent masses of earth material along one or more well-developed failure planes.

Rockslides can further be divided into:
Rotational slump – where the units (coherent masses) of the slide are few and rotated backward toward the slope.
Translational slumps are where there are several coherent units displaced in a step-like fashion.
The carpet slide only involves the near surface upper layers of soil and displaces them like a rumpled rug.
The block glide is the dislocation of a coherent units along a very shallow plane with little internal disruption or rotation of the blocks.
---
Preventing Landslides
Landslides can be a major geological hazard. They can happen unexpected, and homes, vehicles, and other property can be damaged or destroyed. Hazards may be avoided with proper planning and detailed geologic investigations of an area before new roads, businesses, or homes are constructed. In areas that are prone to landslides, proper monitoring of slope movement can help scientists and engineers determine landslide potential.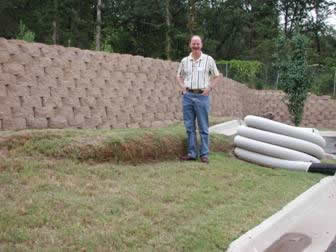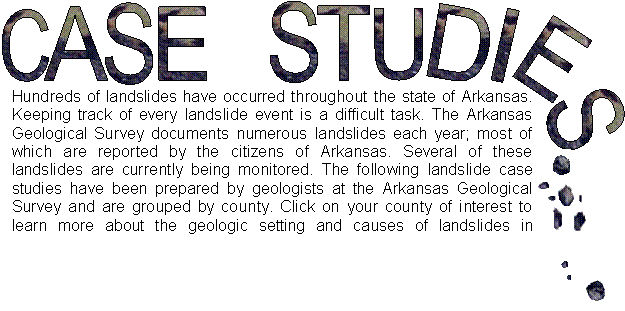 ---
Landslide Case Studies By County
---
Garland County
Landslides of Hot Springs
Hot Springs National Park is known for its many geological wonders. To accommodate the expansion of attractions, the landscape around the thermal springs has been changed to suit the growing economic needs. In the 1800's, construction workers blasted back the toes of West, North and Hot Springs mountains leaving nearly 100 feet vertical "high walls". Over time, substantial commercial buildings were constructed against the exposed rock cliffs, some as few as 10 feet away from rock exposures. Because of this, the spa city has endured a long history of geologic hazards. Landslides are a threatening reminder of the precarious interplay between geology and economic development.
---
---
---
Additional Landslide Resources

Landslide features on Crowley's Ridge (IC-31)
Don't be caught off guard. If you live in a region in Arkansas that is prone to landslides, it is important to recognize landslide warming signs. The following links will provide valuable tips. Contact the Arkansas Geological Survey if you have further questions or feel that you may be at risk.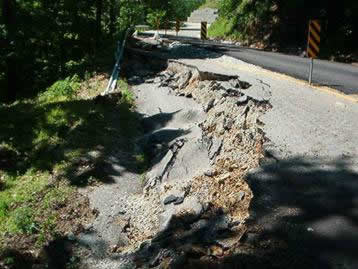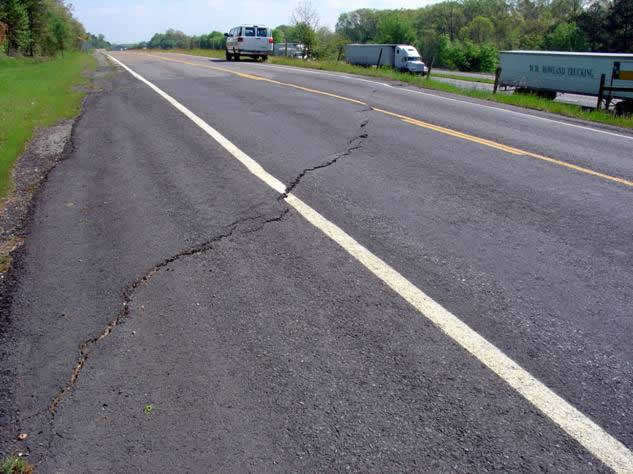 ---